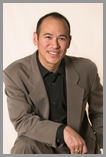 Alan Ortiz – MBA, PMP
Alan skillfully engages others in exploring multiple, practical perspectives to broaden the awareness leading to the transformation of self and one's environment. He then supports the integration and structuring of personal and business systems – the processes, people, and technology – and guides clients from ideas to implementation.
His coaching is informed by his 20 years of project experiences in process improvement and product development in organizations that range across HR, IT/electronics, automotive, finance, marketing, manufacturing, and healthcare, some of them international. A PMP-certified project manager, he has developed and delivered courses in project management that provide increased emphasis on leadership awareness, systems-understanding, and communication.
Alan also draws from his knowledge of mind-body integration – therapeutic bodywork and meditation – to point to ways that balance the stress of individual change. Through supporting the conscious awareness of the inner experience, he helps clients connect outer change with inner shifts and meaningful values. He has recently begun designing and leading awareness and balance workshops for healthcare organizations to improve work-life quality.
Alan's clients have ranged from artists to engineers, project managers to regional consulting managers, and business analysts to next-in-line business leaders and entrepreneurs.

Professional Experience
Principal, Knowledge Sculpting, Ltd.
Professional Coaching of Awareness, Balance and Competencies
Authoring and Developing of Skills Training and Awareness Workshops
Project Management Consulting
Associate Director of IT – Illinois Institute of Technology
Advanced Manufacturing / Product Development Engineer – Tellabs, Inc.
Education, Memberships, Publications
Coaches Training Institute, Core Coaching Program
New Ventures West, Integral Coaching Certification (ICF-accredited program)
Illinois Institute of Technology – MBA Strategy and Information Management
Purdue University – BS Industrial Engineering
Board Member (past) – Project Management Institute, Chicago chapter
International Coach Federation
Certifications:

PMI – PMP Certification in Project Management
APICS – CPIM Certification in Resource Management (past)
Maynard – MOST Work Measurement Technique (past)

Course Co-Author:

Preparing for PMP/CAPM Certification
Project Management Fundamentals
Project Risk Management